Insul-Tarp Ground Insulation
Premium Under-slab Radiant Floor Insulation
Insul-Tarp® under-concrete slab insulation stands alone as the most effective under-slab radiant floor insulation on the market. The patented design of Insul-Tarp ground insulation integrates closed-cell foam and aluminum reflective technology with a strong, cross-woven polyethylene coating, all in three thin layers. The result is a lightweight, flexible and extremely durable radiant insulation with unprecedented efficiency.
Fast, Simple Insulation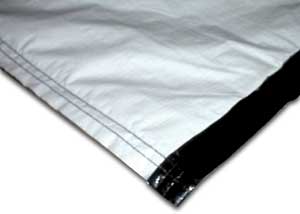 Insul-Tarp can be installed in less than half the time of conventional ground insulation. Unlike other rigid, less effective, in-slab insulation products, Insul-Tarp does not require any special installation preparations, resulting in cost savings because of reduced time and labor demands. To install Insul-Tarp around pipes and other plumbing fixtures, simply cut an "x" in the insulation and slide it over the top of the pipe.
Enhances Response Time of Radiant Floor Heating Systems
The response time of radiant floor heating systems are quicker and more consistent due to the physical characteristics of the Insul-Tarp slab insulation. Insul-Tarp also decreases heat loss below the slab, allowing the radiant floor warming system to react more efficiently and accurately to temperature shifts.
The technologically advanced features of Insul-Tarp dramatically enhance the efficiency of radiant floor heating systems, which can ultimately result in higher performance and lower operating costs.
Durability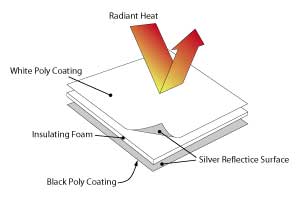 Insul-Tarp's rugged cross woven polyethylene shell provides a durable coating to withstand construction traffic and will maintain its integrity during installation to provide a constant thermal break beneath the concrete slab.
Effective Vapor and Radon Barrier
Insul-Tarp's low perm rate allows it to act as a vapor barrier. Therefore, it becomes very effective in preventing radon gas infiltration, ensuring a safe, comfortable environment.
Because of the clean, quiet operation of a radiant snow melting system, you increase the value of your property as well as eliminate the need for manual snow removal and the use of corrosive salt and snowmelt chemicals that kill nearby grass and plants. In this environmentally conscious day and age, radiant heat is the option of choice for clean snow removal, using renewable energy. Learn more about heating your driveway with a ClearZone snow melting system by calling 888.488.WARM (9276) today.



Under-slab Insulation




Insul-Tarp under slab insulation is the easiest ground insulation to install and the most effective. The picture above shows Insul-Tarp in-slab insulation installed under radiant floor heating cable attached to wire mesh.




CUSTOMER COMMENTS

"The absolutely incredible thing about Insul-Tarp was the performance during heat up times of the slab. Projects done with 2-inch polystyrene seem to take up to 30 percent longer to get up to temperature. This product works better than any other product we have tried.

– Michael W., Hi Valley Supply




"When compared to the cost of styrofoam and the cost of installing and cutting styrofoam, it is much more cost efficient to use Insul-Tarp."

– Carlo S., United Plumbing




More information about:
Radiant Floor Heating Systems